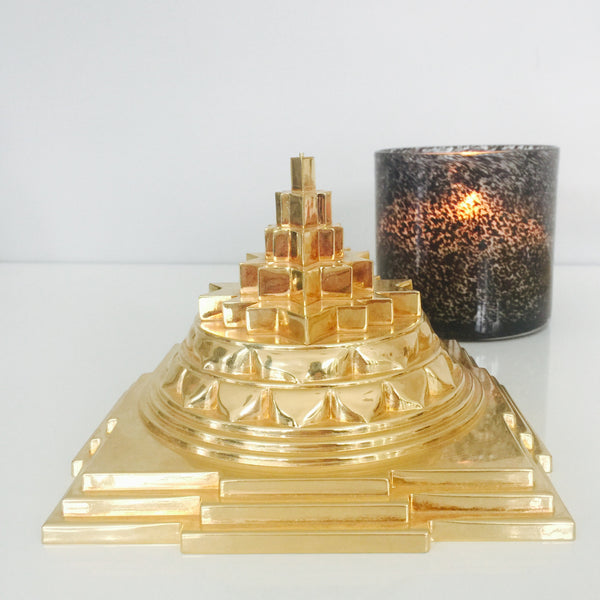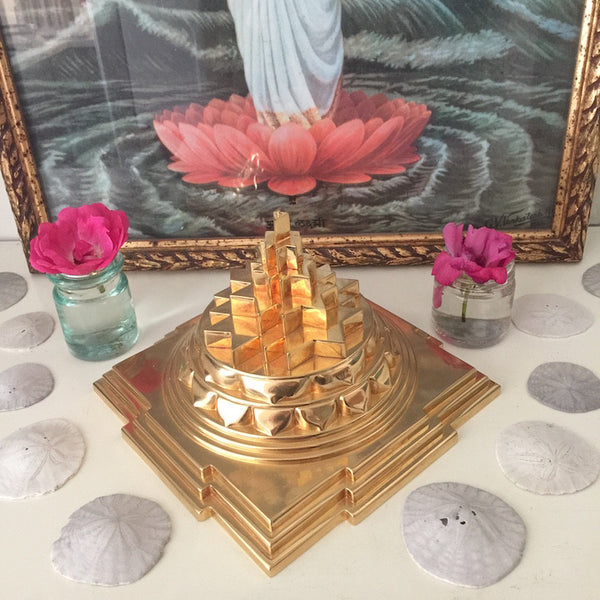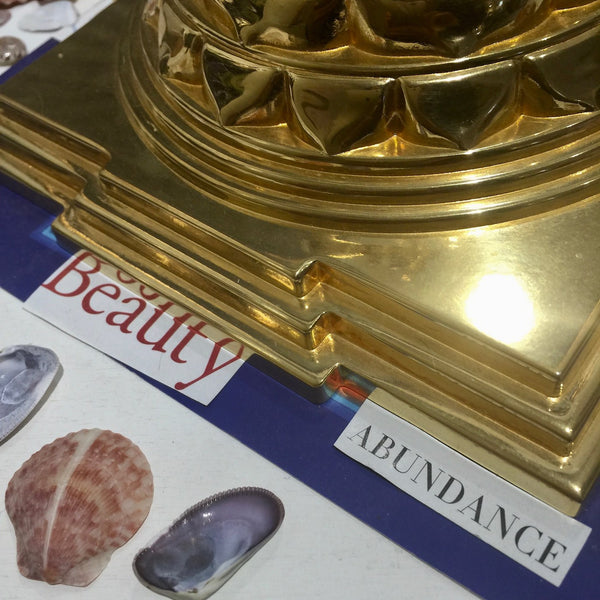 Transcendence Design
Meru Chakra
Meru Chakra is Vedic sacred geometry for increasing abundance: spiritual, financial, success, career, health, fame, protection, etc. Shri Meru Chakra is a radiant, energetic blessing that boosts the flow of vibrant health and prosperity. A powerful Vastu rectification tool, it also energizes and balances acupuncture meridians in the body. An ideal Sri Vidya devotional item for your altar, it's a three-dimensional Sri Yantra, also called a Sri Chakra. 
Pure 24 karat gold over a traditional panchaloha formula of silver, antimony, copper, zinc, and pewter enhances transmission of Sri's energy. Our Meru Chakra is created from precise computer-generated, laser-cut molds. FREE SHIPPING WITH DHL EXPRESS.  
Meru Chakra Package includes 2-dimensional Shri Yantra, 43-page Yantra Guidebook, Installation & Care Instructions. 6.5" x 6.5" x 4.5"/16 x 16 x 10 cm. 3.75 lb/1.7 kg. Any customs duty charges are the buyer's responsibility, to be paid to DHL before delivery.* 
Meru Chakra + Set of 13 7" x 7" Yantras Package includes all of the above, plus 13 two-dimensional color yantras printed on cardstock.
Ideally place your Sri Meru Chakra in the northeast to improve all areas of life and create harmony. Some people like to place it in the east. In the north it enhances financial flow and good fortune. It balances a closed north with no windows or doors. 
I've offered these for over twenty years worldwide. Dr. Vasant Lad of The Ayurvedic Institute recommends our Shri Meru Chakra. He said the Meru Chakra and Vastu Pyramid Sherri offers "create perfect geometrical three-dimensional energy fields and, when placed properly in the home, help neutralize any negative effects of improper vastu." 
Vedic priest/mantra expert Thomas Ashley-Farrand: "To meditate on the Sri Chakra is the equivalent of contemplating all aspects of the cosmos in a single, glorious, all-encompassing symbol." 

Testimonials:  
"I received the Meru Chakra two weeks ago. The effects have been amazing. It connected my head with my heart, the true source of abundance, the secret of Padmini Vidya. I have had other Meru Chakra yantras and used a Lakshmi mantra but haven't had much success until now. The Lakshmi-Narayan mantra in conjunction with the Meru Chakra yantra really does work. It's nice to have a product that delivers."  Pat De Angelo, CT
"Sri has arrived and is exquisitely beautiful. I can imagine this gift may generate more orders. I am so very delighted about this! Thank you so much for the extra care and energy you put forth to getting Her here with grace and ease." Rev. Ellen Grace O'Brian, CA

"I want to tell you how very much I love the meruchakra. There was a significant shift with relationships and my ability to meditate when i installed it. When I sit near the Meru Chakra I feel an overwhelming desire to close my eyes and meditate. A bliss-inducing object it is! There has also been a definite positive shift financially. I received an unexpected check in the mail and my husband had new business." Michele Fleury, CA

"The Gold Meru Chakra accelerated the evolutionary process of integration with loving gentleness, other times a bit more intensely :-). The predominant elements are Truth and Beauty; seeing Truth, speaking Truth, being Truth, at finer and finer levels of consciousness. These finer levels of inner consciousness are mirrored in form in the external world much like the geometry of the Meru Chakra. It continues to be an experience of Beauty in all of creation." J. M., GA

"Sherri Silverman of transcendencedesign was prompt and courteous. The Srichakra Meru is flawless and beautiful. The ambiance it has created in my prayer room is fabulous. It is a valuable Vastu addition as well. This is a great site to get the gold Srichakra Meru from." R. Srinivasan, KY

"The Meru Chakra is definitely powerful. Our son instinctively can feel it; he says it radiates love!" I. Petrie, United Kingdom

"Many house/building issues that were not moving along have begun to progress and open up since the Gold Meru Chakra is in the house. And without a formal install!" S. Hassert, WI

"Meru has safely arrived. We are really astonished about its energy. Thank you so much." client, Netherlands
"Sherri is a highly skilled and knowledgeable Vastu consultant. Great ideas. The Meru Chakra she offers is STUNNING and has very high quality vibration. The Yantras are also excellent and have a level of quality and attention to detail I haven't experienced before. Highly recommended." Charles RR Cotton, Calgary, Canada
"The Gold Meru Chakra is very beautiful and pleasant to look upon. It was a pleasure speaking and doing business with you. I'm so grateful the universe guided me to your website. Will recommend you to contacts that could use your services. Many Blessings," Loron Roberts, Jr., CA

Shri Meru Chakra's Structure:
The Meru Chakra is a three-dimensional Shri Yantra, embodiment of Sri Lakshmi (abundance) and Tripura Sundari (beauty of the three worlds) and the yantra of Sri Vidya, sacred knowledge of the Goddess. It is also the balanced union of Masculine Divine and Feminine Divine: Shiva and Shakti, Lakshmi and Narayana, Purusha and Prakriti. This three-dimensional form is even more potent than the two-dimensional Shri Yantra. 
The Meru Chakra's dimensions, derived from ancient Vedic texts, were transferred by computer technology to a laser that carved the molds, creating precision of the sacred geometry and thereby the Meru Chakra's potency. Precious material, sacred intention, and the highest care in manufacture make our Gold Meru Chakra unequaled in aesthetics and energetic effect.
Skin resistance measurement tests show harmonic distribution of energy improved in 80% of test subjects in a blind test; when they looked at the pyramid, 90%. 
Meru Chakra Placement and Use:
Place the gold Meru Chakra  ideally in the northeast to improve spatial energies of the whole house and all areas of life, or in the north for career and money. You also can place the Meru Chakra in the east in direct sunlight. Gold is Lakshmi energy; it is also the sun. 
If the northeast has no windows or doors or is burdened, set up a Meru Chakra. Also bring the area into greater accord with a Vastu consultation from expert Sherri Silverman.
The Meru Chakra also benefits buildings with no northeast windows or a northeast obstructed by tall trees or a high neighboring house. The same is true for rooms, especially if people carry out healing or financial activities there. The Meru Chakra is helpful in the north of businesses, especially near the safe. 
*(HS Harmonized System code 7114.20)