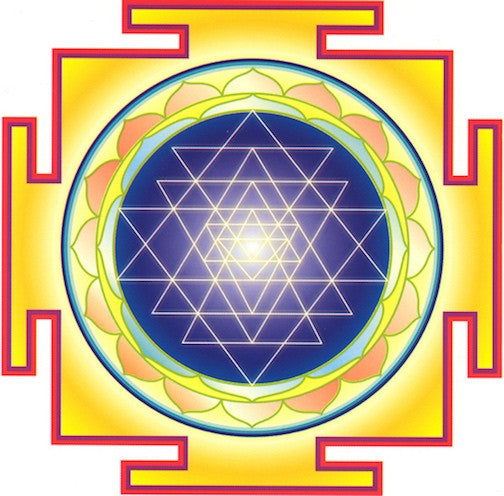 Transcendence Design
Shri Yantra, Sri
Sri Yantra: Place in the north or northeast for protection, abundance, career, prosperity, and health--or anywhere that feels right to you. The Shri Yantra is the embodiment of goddess Lakshmi as well as Tripura Sundari (beauty) and the unification of Masculine and Feminine Divine: Shiva and Shakti, Narayana and Lakshmi, Purusha and Prakriti. For millennia Sri Yantras have been an aid for meditation and Sri Vidya devotion.  5" x 5" / 12 x 12 cm
Testimonial: "I was watching the shree yantra dance and spin in endless patterns and frequencies. We look forward to witnessing the 3-dimensional Meru Chakra and Vastu Pyramid. They must be amazing because it's is so much more dimensional than its 2-dimensional form." S. Hassert, Wisconsin. Read about the marvelous three-dimensional Shri Yantra, the Meru Chakra. 
Patrick Flanagan calls the Shri Yantra "king of power diagrams"; its energetic effect is seventy times greater than an Egyptian pyramid. The Shri Yantra's extraordinary energy is from its precise Vedic sacred geometry. The flat side of the central triangle (with a center dot) should face upwards. The Shri Yantra can energise food or beverages, in which case its central triangle's flat side should face east.

Learn more about the Sri Yantra, including mantras, in the Vastu Yantra Guidebook.
---