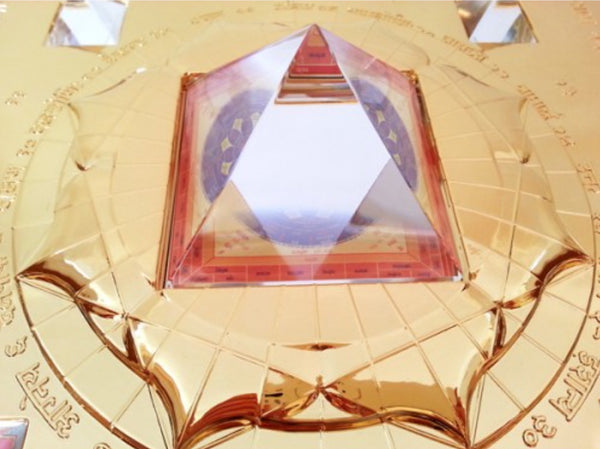 Transcendence Design
Vastu Pyramid: Gold
Vastu Pyramid, the most effective Vastu remedy to heal your home or business space, corrects Vastu defects and dissonant spatial energies. This energetic power center neutralizes negative influences and radiates a positive, life-enhancing effect. Precise sacred geometry from computer-generated, laser-cut molds. Pure 24 karat gold over traditional panchaloha formula of silver, antimony, copper, zinc, and pewter. 11" x 11" x 4". FREE SHIPPING WITH DHL EXPRESS.
Vastu Pyramid Package includes Installation & Care Instructions and 43-page Yantra Guidebook PDF. Pyramids are shipped to you from Europe; you are responsible for any potential customs duty, to be paid to DHL before delivery.* 
Vastu Pyramid + Set of 13 7" x 7" Yantras Package includes all of the above, plus 13 two-dimensional color yantras printed on cardstock.
Vastu Pyramid + Set of 13 7" x 7" Yantras Package + Entrance Set of 4 Yantras includes all of the above, plus 13 two-dimensional color yantras printed on cardstock and the set of 4 yantras for the entrance of your home or business.

For the most powerful, thorough rectification, get the 13 two-dimensional yantras, gold Vastu Pyramid (Vasati Pyramid), and gold Meru Chakra. 
Testimonials:  We have offered these for over twenty years worldwide.  
Dr. Vasant Lad of The Ayurvedic Institute recommends our Vastu Pyramid and Meru Chakra, saying they "create perfect geometrical three-dimensional energy fields and help neutralize any negative effects of improper vastu."
"wow, just got the Vastu Pyramid. it's just so special and the energy is already shifting." Brette Petway, Boulder, CO.

"I've had the Vastu Vedic Pyramid a few years. Things have definitely gone very smoothly in my life since I got it. Everything seems very easy and flowing. When I first received it, I wrote: 'The Vastu Pyramid is so gorgeous, I can't stop looking at it and didn't even do the installation yet! The gold really looks beautiful. Last night I slept better than I've slept in ages!'" M.B., Delray Beach, FL.

"My meditation after placing the gold Meru Chakra and Vastu Pyramid in my room was noticeably steady. For months my daily spiritual practices had been shallow and my mind in turmoil throughout. Now a few times I've experienced a sense of deep steadiness, a feeling that nothing could shake me out of this deep state: distractions just washed over without effect." C. Edwards, Scotland.
"Everything arrived in perfect condition. The craftsmanship is the best I have seen. I was really impressed when I opened the box. They look really nice as ornaments on top of their spiritual function." RC, CA.
Beneath the central pyramid: Vastu Purusha Mandala in metal relief sculpture and MahaPurusha yantra.
In the 8 directions: planetary lords of directions, (two in the northeast, Jupiter & Ketu).
Inscribed on the Vastu Pyramid: auspicious Sanskrit mantras to increase protective energies and neutralize inauspicious defects. 
*(HS Harmonized System code 7114.20)
---