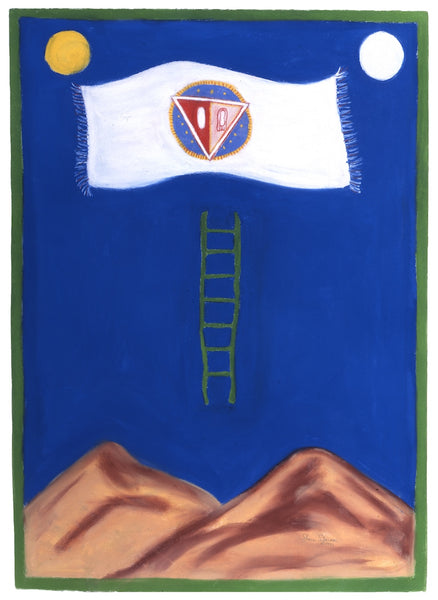 Sherri Silverman
Ladders of Light 5: Crown Chakra, Sahasrara in New Mexico Skies
Sherri Silverman
41" x 29"
pastels and oil pastels on Arches Cover paper
your choice of framed or unframed.
signed in pencil, lower right with date 1990 and copyright symbol
$20,000 includes US shipping. International shipping charges emailed upon inquiry.


This balanced, serene, mystical painting combines a number of elements and symbols I often worked with in the 1980s and 1990s. My imaginary landscapes frequently depict the expansive American Southwest and Santa Fe, where I lived and worked for thirty years. Ladders symbolize the pathway to communion with the divine/heavens in many traditions: Jacob's ladder in the Judeo-Christian tradition, Horus' ladder in Egyptian mythology, the seven-runged Mithraic ladder, the shamanic pole.

The seventh or crown chakra represents the balanced, harmonious integration of Masculine and Feminine Divine, depicted here as a yantra on a prayer flag or flying carpet, with the alchemical marriage, mystic union of sol and luna, sun and moon. Yantras are Vedic sacred geometry, beneficial energy circuits and transmitters.

The detail photo is of an emblem that I use as a logo for Transcendence Design. It is from an eighteenth century Nepalese manuscript image of the Sahasradala or Sahasrara found in my esteemed friend Ajit Mookerjee's fabulous book Tantra Asana. Ajit wrote: "The symbolic lotus with the thousand petals (sahasradala) located just above the crown of the head is said to be the halo of the cerebral cortex. When Kundalini rises from the cardinal circle (Muladhara chakra) piercing through the other five chakras in the human body, he ultimately unites with her Purusha in the Sahasrara; thus ends all duality. The red triangle represents the female or active force and the white the male or static element."
Free pickup or delivery in the San Francisco Bay Area for this important work of art. 
HS (Harmonized System code) 9701.21