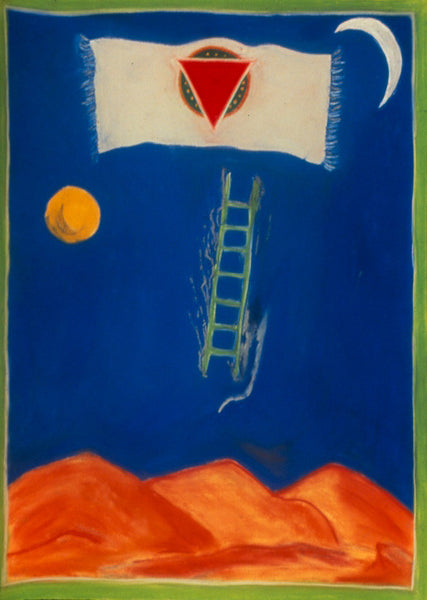 Sherri Silverman
Ladders of Light 4: Root Chakra print 20 x 16
Ladders of Light #4: Root Chakra
artist Sherri Silverman
20" x 16" paper size, 16" x 12" image size. Signed and numbered giclee print on archival paper, Hahnemühle Bamboo or Moab Entrada.
Limited edition of 25.

In this dreamlike Southwestern scene, a prayer flag or flying carpet floats in the unbounded deep blue sky, accompanied by the sun, the crescent moon, and a flying green ladder with silver flames. The symbol on the flying carpet represents the root or first chakra, Muladhara, the origin of the Kundalini energy. The root chakra is like the root of a tree; it helps nourish and ground us in existence in this beautiful physical world. The root chakra image is based on one found in a 17th century Nepalese scroll.