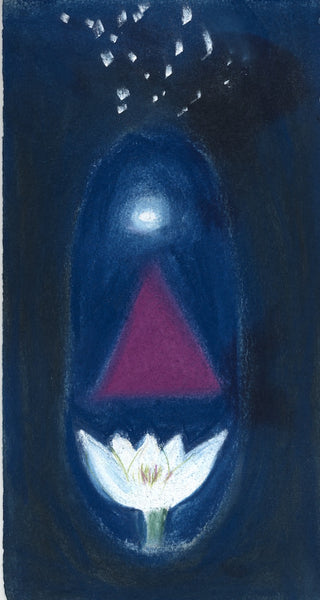 Sherri Silverman
Indigo Source print
The mystical Indigo Source was originally created to represent the energy of indigo color of the rainbow. It depicts a white lotus blossom, a masculine divine, upward-pointing triangle, and a white bindu dot delineating where the forms emerge into the manifest world from the unmanifest source, all within an indigo Shiva lingam form in deep, dark, indigo and black space. A potent spiritual art print for your home from artist Sherri Silverman.
The archival print on Moab Entrada paper replicates the previously sold 2005 pastel on paper original.
Your choice of 24" x 12.5" or 18" x 9.5" print with appropriate borders.  Limited editions of 10, signed and numbered. Unframed. Allow two weeks for your order to be printed, signed, numbered, and shipped to you.